| Title | Address | Description |
| --- | --- | --- |
| | Unnamed Road, 5747 Gudvangen, Norge | |
| | WV7G+P6 Gudvangen, Norge | |
| | V422+R7 Flåm, Norge | |
| | RWV7+JV Gudvangen, Norge | |
| | RMQQ+98 Stalheim, Norge | |
| | Stalheimsvegen 131, 5715 Vossestrand, Norge | |
| | RPX6+6J Stalheim, Norge | |
| | WRFX+M8 Gudvangen, Norge | |
Brekkefossen Waterfall
A well-adapted path with steps built by Sherpas from Nepal leads visitors up to a great vantage point. In addition to getting close to Brekkefossen waterfall, visitors also experience great views over Flåm and Aurlandsfjorden. You need to be reasonably fit to make this trip, but this is one of the easier trails in the area. It takes approximately half an hour to reach the waterfall.
The Royal Postal Road
If you prefer flat terrain, the historic postal road along Nærøyfjorden is a cultural and historical gem. The 5.5 km trip stretches from Styvi to Bleiklindi. Visitors must take a boat in order to reach Styvi. The fjord cruise between Flåm and Gudvangen stops here on request. The trip to Bleiklindi and back takes approximately 3 hours.
Overnight trip to Grindaflet Cabin
If you are ready for a demanding hike in the mountains over several days, the self-service tourist cabin called Grindaflethytta is a great choice. There are many waymarked trails that lead to the cabin. The trip to the cabin takes approximately 5-7 hours depending on the trail you choose.
Stalheimskleiva including the Stalheimsfossen and Sivlefossen waterfalls
NOTE: Stalheimskleiva is closed due to the risk of landslide.
From the parking lot below Stalheimskleiva, visitors can choose between two short trips – either a hike along flat terrain to Stalheimsfossen waterfall, or a steep trail with wooden steps that leads up to a vantage point looking towards Sivlefossen waterfall. Both trips take less than half an hour, and the waterfalls are certainly worth the trip. Stalheimskleiva, which is located on the hillside between the two waterfalls, is an experience in itself. The old, winding road with its magnificent stone walls is a cultural monument from the latter part of the 1800s.
Nåli
Nåli is an old crofter's farm that is located on a mountain ledge, and is approximately a one hour walk from Stalheim hotel. From the parking lot just after the hotel, visitors can walk through the farm yard at Sivle Farm before the trail takes you through gentle forest terrain along the side of the valley to Nåli. The trail is relatively easy to walk and offers panoramic views of Stalheimskleiva. Even though the area is rather overgrown and only ruins remain of the old crofter's farm at Nåli, it is still a great place to take a break and visitors can experience nice views of the special Jordalsnuten mountain.
Rimstigen
From the road that runs between the two small hamlets of Bakka and Tufto, the old cattle road winds steeply up to a vantage point situated 725 meters above sea level. It is a steep climb, but your efforts are rewarded with beautiful views over Nærøyfjorden. The trip to the top takes approximately 1-2 hours. For those who are in good shape and are accustomed to mountain hiking, it is possible to continue on towards Breiskrednosi and Dyrdal, or to follow the old route over the mountains to Jordalen.
Stokko
From Undredal, visitors can follow an easy trail along the fjord to Stokko. The trail is relatively flat and runs through meadows and scree fields. Along the trail, visitors can see traces of a bygone era, such as old hayfields, stone walls and the remains of homesteads. Every bit of land was utilized, even the very steep hayfields located on the mountainsides above the trail. Despite the fact that most of the fodder and farming equipment was transported to the area by sea, the trail was an important means of getting to and from the meadows, both for people and grazing animals. Local farmers continue to maintain this cultural landscape, and use the grass as fodder for their livestock. Stokko has an established campsite that is commonly used by kayakers.
Hovdungo in Undredal
There is a trail leading from Undredal to the old summer mountain farm called Hovdungo, approximately 740 meters above the village. From the trail, visitors can enjoy fantastic views of Undredal, the fjord and the surrounding mountains. The trail is steep and some sections of it are rather exposed. The trail runs through forests and old cultural landscapes. Keep an eye out for traces of old hayfields, hay barns and rope and pulley systems that were used to transport hay up and down the mountain. For centuries, the trail to Hovdungo has been an important traffic route for the people of Undredal. The trail has been used by many generations in connection with hunting and mountain farming. It has also been used as a route through the mountains to reach the mountain farms at Stigen.
Huldafossen
Visitors can take the trip from Fresvik to Huldafossen waterfall. The trip to Huldafossen waterfall is a relatively easy one of approximately 2.5 km one way. The trail leads to Storøyna, an open area that was used to graze sheep. Remember to close all gates behind you on this trip. In order to get to the area, visitors can drive along the road from the village to Engi summer mountain farm. If you wish to take a longer trip, you can park further down the valley and walk along the gravel road to the summer mountain farm. From Engi, there is a trail leading into Stordalen with great views of Huldafossen waterfall and the Fresvikbreen glacier. Be careful not to get too close to the waterfalls, there is a danger of rockfalls. At Bjørkehaug, before you reach Storøyna, there is an exercise registry box. From here, the trail turns steeply to the right and leads to Helgedalen summer mountain farm. This summer mountain farm is no longer in use, and only the foundations remain of the old farmhouse.
Clean up after yourself and do not leave any trash behind, including disposable barbecues and wet wipes.
Show consideration for grazing animals and wild animals. Keep your dog on a leash and close gates behind you.
If you can't find a toilet, dig a hole that is at least 30 meters from paths, buildings or water sources. Toilet paper and wet wipes are garbage that must be thrown into a trash bin.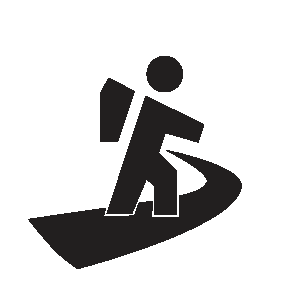 Follow established trails so that wild reindeer and other shy animals do not have to encounter people everywhere. Avoid taking short cuts or treading new trails.
Do not disturb animals and birdlife. Try to observe animals and birds from a distance. Binoculars are recommended.
Cairns are landmarks that help you to follow the route. Do not build new cairns as this may lead people astray. Do not remove stones from old cairns. They are cultural monuments.
You are permitted to pitch your tent on uncultivated land as long as you are at least 150 meters away from the nearest house or cabin. Lowland meadows are often classed as cultivated or arable land. This means that you are only allowed to pitch your tent in these meadows with permission from the land owner. Use recommended campsites.
Lighting campfires in forests and uncultivated land is prohibited from 15 April to 15 September, except along places such as watercourses where the risk of wildfires is minimal. Use established fire pits and avoid building campfires directly on bedrock in case the rock cracks. Extinguish the fire properly and clean up before you leave.