About the Nærøyfjord area
This area is considered one of the most beautiful fjord landscapes in the world. We hope you will find your adventure here – and that you take care of this unique landscape together with us.
Activities and experiences
Whether it is a hike up the highest mountain peak, or a dip in the fjord. Whether you wish to explore the area in a kayak, or wander along old paths and trails. This is the place where you can find exactly what you are looking for!
Nature and wildlife
The area is a paradise for nature lovers. You are more than welcome to explore the area, but watch your step. Help us to take care of the unique adventures that nature offers!
Approaches
The Nærøyfjord area is located at the heart of Vestland County. You can reach the area from many different directions. The many cozy villages are great places from which to start in order to experience the area.
Cultural landscape
The Nærøyfjord area has a rich cultural history, which tells a story of how people have lived in this area for a long time. There are traces dating all the way back to the Stone Age, from hunting and trapping cultures, permanent farming and livestock settlements, to modern-day agricultural operations. 
Travel and accommodation
You can reach the Nærøyfjord area by train, boat, bus and car. Or, how about entering the area by riding your bike down the Rallarveg road or paddle along the Sognefjord. After arriving at your destination, there are many different types of accommodation to choose between, from historic hotels to camping cabins situated in beautiful surroundings.
| Title | Address | Description |
| --- | --- | --- |
| Nærøyfjorden landskapsvernområde | Nærøyfjorden, Aurland, Norge | |
Where is the Nærøyfjord area of the West Norwegian Fjords?
It is located in Vestland County, in the municipalities of Aurland, Vik, Lærdal and Voss.
How do I get there?
The area is a short distance from Oslo and Bergen by train, boat, bus and car.
Protected areas in the vicinity
The Right to Roam – joys and obligations
Just think how lucky we are: The Right to Roam is a free common good that gives you the right to enjoy uncultivated land, regardless of who owns it. From ancient times, we have had the right to travel through forests and fields, along rivers, on lakes, along the coastline and in the mountains. The main principles of the Right to Roam are set out in the Outdoor Recreation Act of 1957. A basic rule for all who enjoy the benefits of the Right to Roam is: Leave nature the way you would like to find it yourself!
You may travel freely on foot or on skis through the natural surroundings, as long as you show consideration and do not leave any trash behind.
It is permitted to ride horses and bikes on trails and roads.
You are allowed to pick berries, mushrooms and common flowers, but do not pick endangered or protected species such as orchids.
Cultural monuments such as ancient walls, trapping sites and burial mounds are protected. Do not move any rocks or stones.
Hunting and fishing are permitted if you have a hunting/fishing license. Rod fishing is free for children under the age of 16. The use of live fish as bait is not permitted. In addition, it is not permitted to take live fish or wet fishing gear from one watercourse to another.
Motorized traffic, with the exception of boats on the fjord, is not permitted in the protected areas, unless you have been granted special permission. This also includes electric bikes.
The weather in the mountains can change abruptly, both during summer and winter. During the summer, it is not uncommon to experience low temperatures and thick fog. Sunny winter weather can suddenly change to dense blizzards.
It is your responsibility to assess the weather conditions, your level of fitness and skills, and to be prepared with suitable clothing and equipment. The various protected areas have their own rules and regulations.
Clean up after yourself and do not leave any trash behind, including disposable barbecues and wet wipes.
You are permitted to pitch your tent on uncultivated land as long as you are at least 150 meters away from the nearest house or cabin. Lowland meadows are often classed as cultivated or arable land. This means that you are only allowed to pitch your tent in these meadows with permission from the land owner. Use recommended campsites.
Lighting campfires in forests and uncultivated land is prohibited from 15 April to 15 September, except along places such as watercourses where the risk of wildfires is minimal. Use established fire pits and avoid building campfires directly on bedrock in case the rock cracks. Extinguish the fire properly and clean up before you leave.
Show consideration for grazing animals and wild animals. Keep your dog on a leash and close gates behind you. Wild reindeer are especially vulnerable during the late winter and spring.
If you can't find a toilet, dig a hole that is at least 30 meters from paths, buildings or water sources. Toilet paper and wet wipes are garbage that must be thrown into a trash bin.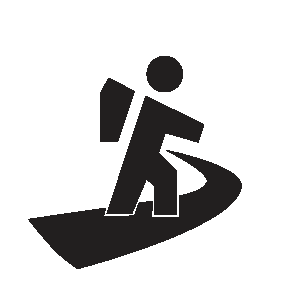 Follow established trails so that wild reindeer and other shy animals do not have to encounter people everywhere. Avoid taking short cuts or treading new trails.
Do not disturb animals and birdlife. Try to observe animals and birds from a distance. Binoculars are recommended.
Cairns are landmarks that help you to follow the route. Do not build new cairns as this may lead people astray. Do not remove stones from old cairns. They are cultural monuments.